Filip Rezabek, M. Sc.
Research Associate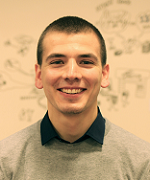 Postal address
Institut für Informatik der
Technischen Universität München
Lehrstuhl I8
Boltzmannstr. 3
85748 Garching bei München - Germany
Contact
Tel: +49 89 289 18011
e-Mail: rezabeknet.in.tum.de

(GPG: 23C8 3F2C E0E0 A7F8 BBB6 9F7C B2DD 2373 B038 220C)

Building/Room: MI Building, 03.05.060
Consultation hours
By arrangement
Research topics
Network security
Applied and threshold cryptography
System resilience
Distributed Ledger Technologies
Time-Sensitive Networking
Research projects
VITAF (Vertrauenswürdige IT für autonomes Fahren (Trustworthy IT for autonomous driving); from 01/2019)
Teaching
Since 2020: Teaching Assistant for P2P Networks and Security
Since 2020: Seminar "Innovative Internettechnologien und Mobilkommunikation (IITM)" (advisor)
About Me
After finishing the Master's thesis I joined the chair of Network Architectures and Services at Technical University of Munich (TUM) in 2020. My main area of interest is IT and IoT Security, focusing on resilience, distributed systems, and applied cryptography.
I enjoy working with students in the form of seminar topics, thesis, and other projects. In case there is no posting of thesis/IDP, feel free to reach and we might figure something out;preferrebly in the areas of my research.
Supervised Theses
In progress
| | | | | | |
| --- | --- | --- | --- | --- | --- |
| Student | Title | Type | Advisors | Year | Links |
| Johannes Pfannschmidt | Feasibility Study of Threshold BLS Signature Scheme for Tamper-Resistance Signature Service | BA | Filip Rezabek, Richard von Seck, Dr. Holger Kinkelin | 2022 | |
| Andrei Lebedev | A Cross-Protocol Blockchain Benchmark System | MA | Filip Rezabek, Dr. Holger Kinkelin | 2022 | |
| Timo Michael Saunus | Software-based Security for Intellectual Property and Collaboration | MA | Richard von Seck, Filip Rezabek, Holger Kinkelin | 2022 | |
| Justus von der Beek | TEE Support for Digital Data Marketplaces | IDP | Filip Rezabek, Holger Kinkelin, Richard von Seck | 2022 | |
| Jonas Kaps | High-Performance Low-Latency Forward Error Correction Coding for Reliable Ethernet Communication | MA | Kilian Holzinger, Filip Rezabek | 2022 | |
| Johannes Abel | Digital Twin for Time-Sensitive In-Vehicular Networks Using OMNeT++ Simulator and the INET Framework | IDP | Marcin Bosk, Filip Rezabek, Kilian Holzinger | 2021 | |
Finished
| | | | | | |
| --- | --- | --- | --- | --- | --- |
| Author | Title | Type | Advisors | Year | Links |
| Ahmet Öztürk | ECDSA Signatures for Efficient Byzantine Fault Tolerant Consensus in C++ | BA | Richard von Seck, Filip Rezabek | 2022 | |
| Roland Warta | Monitoring of DetNet Flow Requirements | BA | Kilian Holzinger, Henning Stubbe, Filip Rezabek | 2022 | |
| Atacan Iyidogan | Implementing the "Hierarchical Link Sharing" Scheduling Algorithm for the INET Framework and OMNeT++ Simulator | BA | Marcin Bosk, Filip Rezabek | 2022 | |
| Christian Kilb | Analysis of Practical Permissionless PoS-based Consensus | MA | Richard von Seck, Filip Rezabek | 2021 | |
| Aaron Huber | Schnorr Signatures for Efficient Byzantine Fault Tolerant Consensus in C++ | BA | Richard von Seck, Filip Rezabek | 2021 | |
| Philip Höbler | BLS Signatures for Efficient Byzantine Fault Tolerant Consensus in C++ | BA | Richard von Seck, Filip Rezabek | 2021 | |
| Michal Virgovic | Analysis and Performance Evaluation of Threshold Decryption Schemes | MA | Filip Rezabek, Dr. Holger Kinkelin | 2021 | |
| Kilian Glas | Evaluation of Distributed Key Generation Approaches for Threshold ECDSA Signature Schemes | MA | Filip Rezabek, Dr. Holger Kinkelin | 2021 | |
| Michael Haden | Simulation of Time Sensitive Networking | BA | Kilian Holzinger, Filip Rezabek, Marcin Bosk | 2021 | |
| Tizian Leonhardt | Impact of Security Measures on PTP Synchronization Accuracy | BA | Filip Rezabek, Max Helm | 2021 | |
| Paul Wiessner | Emulation of Network Traffic for Applications in Autonomous Driving | IDP | Filip Rezabek, Marcin Bosk, Kilian Holzinger | 2021 | |
| Chon Kit Kuok | Dockerized Network Experiments Done Right | MA | Richard von Seck, Holger Kinkelin, Filip Rezabek | 2021 | |
| Stefan Schrott | Anonymization of Network Captures | BA | Lars Wüstrich, Filip Rezabek | 2021 | |
| Nikolas Mühlbauer | Evaluation of OPC UA PubSub over TSN | MA | Erkin Kirdan, Filip Rezabek, Thomas Paul, Marc-Oliver Pahl | 2020 | |
| Achraf Aroua | Feasibility of Static Path Redundancy for Real-Time Applications in Software | BA | Filip Rezabek, Kilian Holzinger, Thomas Paul, Sebastian Gallenmüller | 2020 | |
| Justus von der Beek | Software Implementation of Path Duplication on Link Layer for Real-Time Traffic | BA | Filip Rezabek, Kilian Holzinger, Thomas Paul, Sebastian Gallenmüller | 2020 | |
| Leon Kist | Performance Evaluation of Lightweight Transport Layer Security Protocols | BA | Filip Rezabek, Dr. Holger Kinkelin | 2020 | |
| Robert Junge | A Tamper-Resistant Signature Services Based on Schnorr threshold signing | MA | Filip Rezabek, Dr. Holger Kinkelin | 2020 | |
| Sam Katala | A Tamper-Resistant Signature Services Based on BLS threshold signing | BA | Filip Rezabek, Dr. Holger Kinkelin | 2020 | |
| Bohdan Hirnyak | A Tamper-Resistant Signature Services Based on EDCSA threshold signing | BA | Filip Rezabek, Dr. Holger Kinkelin | 2020 | |
| Raphael Schleithoff | Lightweight Consensus for Distributed Certificate Issuance | BA | Dr. Holger Kinkelin, Filip Rezabek | 2020 | |
| | |
| --- | --- |
| 2021-11-01 | Marcin Bosk, Filip Rezabek, Kilian Holzinger, Angela Gonzalez, Abdoul Kane, Francesc Fons, Zhang Haigang, Georg Carle, Jörg Ott, "Demo: Environment for Generic In-vehicular Network Experiments - EnGINE," in 13th IEEE Vehicular Networking Confernce (VNC 2021), Ulm, Germany, Nov. 2021. [Pdf] [Bib] |
| 2021-10-01 | Filip Rezabek, Marcin Bosk, Thomas Paul, Kilian Holzinger, Sebastian Gallenmüller, Angela Gonzalez, Abdoul Kane, Francesc Fons, Zhang Haigang, Georg Carle, Jörg Ott, "EnGINE: Developing a Flexible Research Infrastructure for Reliable and Scalable Intra-Vehicular TSN Networks," in 3rd International Workshop on High-Precision, Predictable, and Low-Latency Networking (HiPNet 2021), Izmir, Turkey, Oct. 2021. [Pdf] [Bib] |