Stefan Liebald, M. Sc.
Research Associate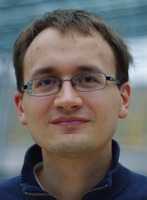 Postal address
Institut für Informatik der
Technischen Universität München
Lehrstuhl I8
Boltzmannstr. 3
85748 Garching bei München - Germany
Contact
Tel: +49 89 289 - 18003
Fax: +49 89 289 - 18033
e-Mail: liebaldnet.in.tum.de

(GPG: BEDC 179E 9D2F 1332 DE15 E650 10C7 0DDA EA6D 3046)

Building/Room: MI Building, 03.05.057
Consultation hours
By arrangement
Research
Smart Space Orchestration
Distributed Systems
projects
DecADe: Decentralized Anomaly Detection (2016 – 2019)
Stefan Liebald is currently a scientific staff member and lecturer at the Chair of Network Architectures and Services at the Technical University of Munich (TUM).
He received his Master degree in Informatics from TUM in February 2016. Currently he is a PhD canditate at TUM. His main area of interest lies in Internet of Things and Smart Space research. Current work is focused on Smart Space Orchestration using a distributed, software oriented architecture.
Another area of interest is teaching. He is working on a practical networking course (the iLab) held at TUM since the last 4 years. Furthermore he is part of a team currently preparing a Massive Open Online Course (MOOC) aimed at teaching computer network fundamentals using practical exercises in a virtual elearning environment.
Publications
| | |
| --- | --- |
| 2018-04-01 | Marc-Oliver Pahl, Francois-Xavier Aubet, Stefan Liebald, "Graph-Based IoT Microservice Security," in Network Operations and Management Symposium (NOMS), Apr. 2018. [Pdf] [Bib] |
| 2018-03-01 | François-Xavier Aubet, Marc-Oliver Pahl, Stefan Liebald, Mohammad Reza Norouzian, "Graph-based Anomaly Detection for IoT Microservices," in Passive and Active Measurement Conference (PAM), Mar. 2018. [Pdf] [Bib] |
| 2017-07-01 | Nadine Herold, Matthias Wachs, Marko Dorfhuber, Christoph Rudolf, Stefan Liebald, Georg Carle, "Achieving reproducible network environments with INSALATA," in 11th International Conference on Autonomous Infrastructure, Management and Security (AIMS'2017), Best Paper Award, Zurich, Switzerland, Jul. 2017. [Pdf] [Slides] [Bib] |